What is mini golf? What are the rules? How do you play?
Did you know that mini golf is more than a hundred years old, and once was even more popular as a pastime in America than television or movies? Far from just a hoaky roadside attraction, this quirky and fun game is a great way to spend a few hours with the family. In this post, we wish to show you the basics of mini golf, and give you a run-through of the game, its unique set of rules, and a little vocabulary to go along with it. Tee up, it's time to get to putting!

What is mini golf?
The first mini golf (or minigolf, as it is sometimes written) course was opened in North Carolina in 1916, but at this point it really was just a small golf course. The real breakthrough occurred when Thomas MacCullough, avid golfer and downright genius had the great idea to use astroturf (a kind of artificial grass still used today), and thus, the game was born. 1920 was the golden age of American mini golf, with more than ten thousand courses opening up nationwide. It was during this time that mini golf assumed the final form that it has today: small courses, astroturf, obstacles, and plenty of fun decorations and things to look at, to make the game more fun and family oriented. This is also when the rules of mini golf solidified into a coherent codex.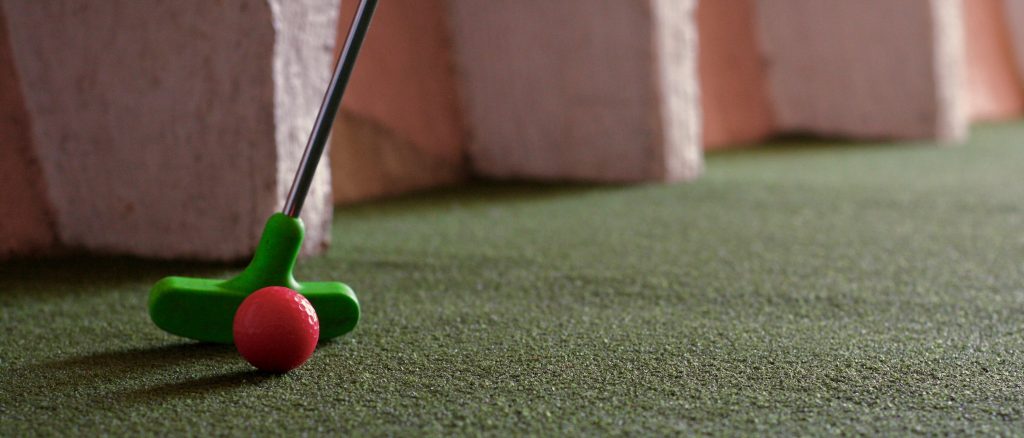 Mini Golf was so popular that Hollywood even felt its effects back then. Movie theaters were less frequented due to this new pastime, and many movie theatre owners and operators opened courses or refitted their movie theaters to be on trend.
How to play mini golf
Mini golf is all about fun, so taking it too seriously is definitely not recommended. There are some rules though, and we recommend following them to give the game coherency. As mini golf is often played by the whole family, these rules can be bent and twisted to suit children, and to make the game enjoyable for everybody involved.
What you'll need
What you are going to need is as many golf clubs as there are players, some stylish golf balls, and comfortable clothing that you can spend a few hours moving around in. Mini golf is not a very work intensive sport, but you will be walking about and swinging for a little while, so best to get nice and comfy. Make sure your golf club is the right size and weight, by trying them out first. It should be easy to lift, but have enough pull so that you can really put your back into your swing. Mini golf is a team effort, and is only fun when there are enough people to play against, so bring your friends and family- the more the merrier.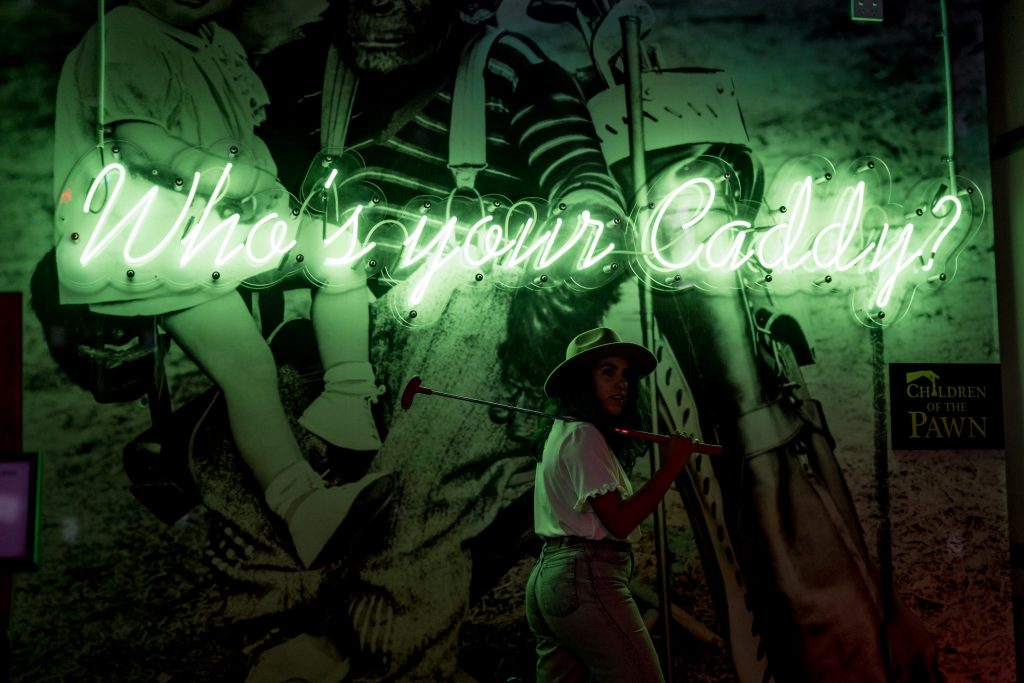 The goals of the game
The goals of the game and the way it is played is essentially the same as golf. There are 18 holes on the course, and the goal is to hit every single one of them. Each swing of the club is one point, and the person (or team) with the least amount of points wins.
The rules
Mini golf can be played individually or in a team.
Teams can be up to 4 people, and the game gets very cumbersome with teams above 4.
The points are collectively counted, and each team member's points adds to the total.
Individually, each member counts their own points. You have up to 6 swings for each hole, and if you cannot get the ball in the hole, you need to add 7 points to your sheet.
If the ball leaves the course, you add a point to your score sheet, and then continue from the nearest point on the course.
A point is counted every single time the golf club touches the ball (yes, even if it's just a little bit, no excuses).
The ball can be moved a bit inwards when it's stuck against the edge of the course that is up to your discretion.
Tips from the Pros
If you are new to mini golf, don't worry! We have some awesome tips for you from our certified professionals, to help you get started and not be totally lost.
Choose the right club! The perfect golf club should roughly reach to your waist, you should be able to grip it and lift it with ease.
Plan ahead! In golf, strategy is key. Walk around the golf course, and get a feel for the terrain, all the while developing a winning strategy. Cont how many swings you think it will take for each hole (be realistic!).
Stay in control! Mini golf is not a game of strength. You need precise, elegant movements, with great hits and just a hint of luck, too. Take a look at those who played before you, and see what their faults or strong points were, and build on those.
Careful with that ace! A hole in one is a great thing indeed, but to try for an ace every time will more often than not leave you behind. The odds of getting a hole in one every time is astronomical, so try and pace yourself instead.
Posture is important, but don't kill yourself! Remember: knees slightly bent, riding stance, arms straight… but the most important ingredient is DON'T FORGET TO HAVE FUN!
Save the best for last! It's not over 'till it's over so give it your best shot, and save your juice until the end. Catching up is easier than staying ahead, and don't forget: there's always the bonus ball at the end!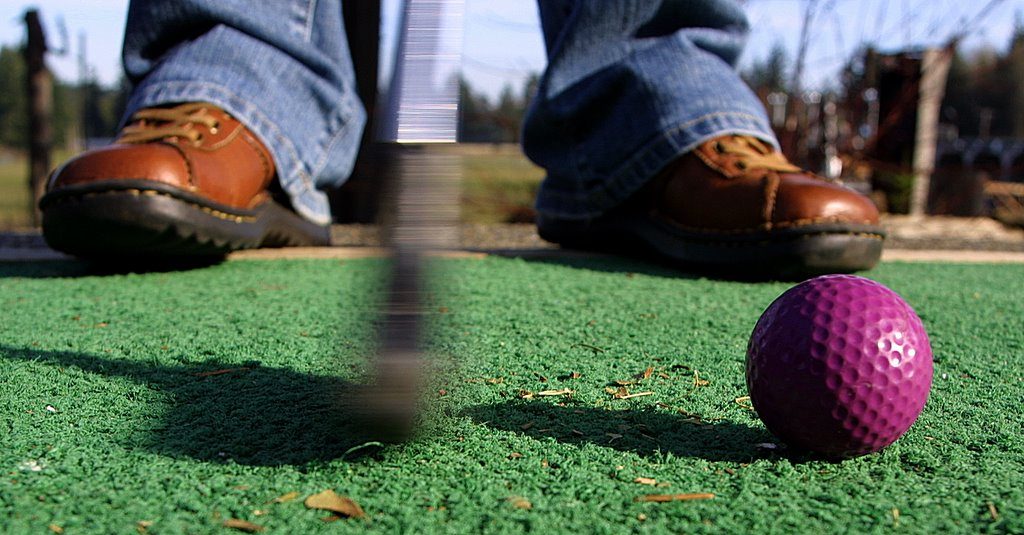 Golf Vocabulary
You don't have to be a pro to sound like one! Here is a quick run through of some very important terminology that you can use to impress everyone at the course.
Putter: The golf club used in mini golf. Useful for making small, precise hits.
Putting: The swing used in mini golf. Precise and careful, the perfect putt is low power, and the ball rolls on the ground instead of flies.
Ace, or hole-in-one: Getting the ball in the appropriate hole on the first shoot.
Course: An area with 18 holes in it, full of special obstacles and cool visual elements to make the game more interesting.
Tee: The place where the game begins at each hole. It is usually a given place or region, where you can place the ball freely.
Score card: A card or sheet of paper that the players use to count their points. Every team or person in play has one.